THE MICHELLE AKERS COLUMN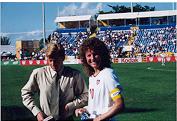 WIN THE SHIRT OFF MY BACK!

During the World Cup I will be giving away my NIKE National Team game-worn
shirts. I will autograph, and authenticate it with game and date, making it
truly one of a kind. Don't worry, I promise to wash it before I send it to
you!

To win the actual shirt I wear in our opening game against Denmark all you
have to do is go to http://www.aboutsoccer.com/michelle_feedback.htm and
ask me a question. This question could be about soccer, my career, or my
personal life. The winner will be the person, who in my opinion, submits
the best question. I will take into account your age so that everybody has
a chance to win.


WE'RE ALMOST THERE!

Kicking off on June 19 and continuing through July 10, we will be competing
with 15 other nations in an attempt to the win 1999 FIFA Women's World Cup
Championship. The World Cup is held every four years, and an anticipated
one billion people worldwide will watch this event, making it the largest
ever women's sporting event in history. Phew, one billion people, no
pressure!

If you're unable to watch us live, here are our games being televised live
this month. Please check your TV listings for broadcast times in your area.

Teams Date, 1999 Kickoff Network

USA v DENMARK Sat., June 19 3:00 p.m. ABC

USA v NIGERIA Thurs., June 24 8:30 p.m. ESPN

USA v KOREA Sun., June 27 7:00 p.m. espn2



A LITTLE PREP TALK!

A lot of people ask me how I prepare for a game. (Don't forget if you want
to ask me a question go to:
http://www.aboutsoccer.com/michelle_feedback.htm Hey, you may even win one
of my game shirts.)

To help us prepare for the World Cup, we have been playing a series of
exhibition games in the "Nike Road to Pasadena" which has taken us to nine
cities. The USA-Canada game at Civic Stadium on Sunday, June 6, in
Portland, OR is our "Send-Off" and the final game of the Nike Road before
our opening World Cup game.

In addition to exhibition games we have been training in the outrageous 90
degree Florida heat. Coach Tony DiCicco, and the rest of the staff, have
been relentless in our sessions. It is crunch time now and our last stretch
of time to layer in and deepen the fitness that will hopefully give us the
edge when we need it most.

One of my objectives is to become faster and more explosive so I focus my
training on that kind of fitness. I do a lot sprint work - 20-, 40-, 60-,
100- yard sprints which takes about an hour and a half to do. I had a
shooting coach, who'd have me out on the field for an hour hitting balls
every day.

A lot of the times the best training is nothing fancy; it's very basic. The
great players do the basic, simple things perfectly every time and under
the most pressure. It just takes a desire to be your best on every touch.
And that's what I suggest. You don't have to spend two or three hours. You
can spend a half hour a day and you'll make a big difference in your game.

Before each game I get together with Steve Slain, our strength coach, and
say a little prayer and then I pray again just before the game during the
National Anthem.

Something inside makes me want to be the best player in the world and part
of the best team in the world. In 1991, the U.S. Women's Team became the
best and I was named one of the best players in the world. To sacrifice so
much to realize a dream was incredible. And that is what is motivating our
team for the Women's World Cup--to be the best again. It's an incredible
feeling to know that you have done everything you can, your dream came
true, and that you're the best you can be.


LINEUPS

For Women's soccer the World Cup is a relatively new program. Unlike
baseball's World Series, other nations are actually invited to participate
making it truly a World event. The 16 teams are divided into four groups of
four.

We are in Group A and will face Korea DPR, Nigeria and Denmark. We have
never faced Korea DPR or Nigeria, but have a 6-3-1 career record against
the Danes, including a 5-0 victory in the semifinals of the 1998 Goodwill
Games last summer.

Denmark are an improved team with several World Cup and Olympic veterans
mixed with some talented and athletic young players. Watch out for strikers
Gitte Krogh (20 international goals) and Lene Jensen with Birgit
Christensen, a veteran of the 1996 Olympics and 1995 Women's World Cup,
adds stability to the defense. An experienced midfield, including Olympic
veterans Anne Nielsen and Christina Petersen (I'll be watching them myself!).

DPR Korea were the surprise of the XIth Asian Cup, coming from virtual
obscurity to earn a berth in their first Women's World Cup by finishing
second in the tournament. Kim Kum Sil scored the historic goal to defeat
Japan and had six scores in the tournament to lead her team. DPR Korea
proved to be a side with both physical toughness and polished skill in its
refusal to roll over to perennial Asian champion China, and may prove to be
a first-round opponent that many favorites might want to avoid in the
summer of '99.

Nigeria earned its Women's World Cup berth with a 6-0 victory over
neighboring rival Cameroon in the semifinals of the qualifying tournament.
While Nigeria's first two Women's World Cups produced five losses and a
tie, the Falcons have high hopes of advancing to the second round for the
first time.

The other groups are: Group B: Germany, Brazil, Mexico,and Italy. Group C
consists of Norway, Japan, Canada, and Russia. Finally Group D with
China PR, Australia, Ghana and Sweden

As a team, we are determined to play at the Pasadena's Rose Bowl in the
championship game and win the Women's World Cup for the U.S.



FOOTNOTES

Who shares your birthday this month? The following teammates celebrate
birthdays in June: Goalie Tracy Ducar (18th) and Defender Christie Pearce
(24th).

Over 400,000 tickets have already been sold, but I know they are still
available for all games. For ticket information, call toll-free (800)
WWC-TIKS (800-992-8457) or log-on to the Official Women's World Cup Web
Site - wwc99.com.